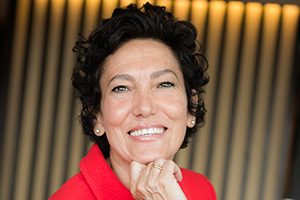 FELICIDAD CRISTOBAL
Felicidad Cristobal is now Advisor at Synergy Capital Ventures (UK), Senior Advisor to the Business Council of International Understanding (USA), and President of the Foundation for Consciousness Development.
Her last position has been CEO of the ArcelorMittal Foundation, a non-profit organization with presence in 30 countries. She led its creation, after being appointed by Lakshmi N. Mittal, following the merger between Arcelor and Mittal Steel in 2006.
Felicidad Cristobal's career with the Group began in 2001 as General Manager of International Affairs, being promoted to Senior Vice President nine months later in Luxembourg, after the Arcelor merger took place (Aceralia, Arbed and Usinor).
She was in charge of three departments: Competition Law, International Trade and Governmental Affairs. Between 2002 and 2005 she also assumed the task of European Union Coordinator in the MEBF (Mercosur European Business Forum).
Previously, she served as Chief of International Relations at the Economic and Social Council of the Spanish Government, having started her career as an advisor within the Cabinet of the Spanish Prime Minister Felipe González.
Felicidad Cristobal graduated in Law and holds two Masters in European Community Law and International Relations. She also holds a degree in Piano and speaks fluent English, French, Italian, German, Spanish and Portuguese.